Model 1500
Stencil / Pallet Cleaner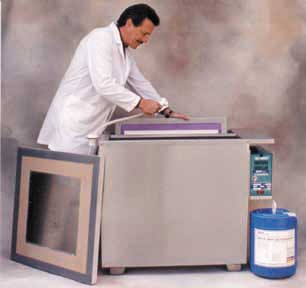 The Smart Sonic Model 1500 Stencil and Pallet Cleaner offers a very affordable alternative to the surface mount assembler requiring high quality, EPA compliance, flexibility and guaranteed performance.
The Model 1500 features the following:
Stainless steel construction


Ability to clean stencils up to 29 inches (750 mm) in less than 2 minutes


Low Profile to allow easy loading and unloading


Side mounted "sweep frequency" ultrasonic transducers with 10 year limited warranty
Most importantly, the Model 1500 with 440-R SMT Detergent has the Smart Sonic performance guarantee that it will clean any type of solder paste from any fine-pitch stencil... or your money back!
The economical price of the Model 1500 makes it ideal if more than one cleaner is required. Dollar for dollar, the Model 1500 is the best value in ultrasonic stencil and pallet cleaning.
With Smart Sonic, you always have the choice of using the best chemistry, 440-R SMT Detergent, in our proven, certified and guaranteed stencil cleaning process. Or, select another chemistry and design your own process. Either way, Smart Sonic has been used longer, by more SMT assemblers and recommended by more stencil manufacturers than any other stencil cleaning process.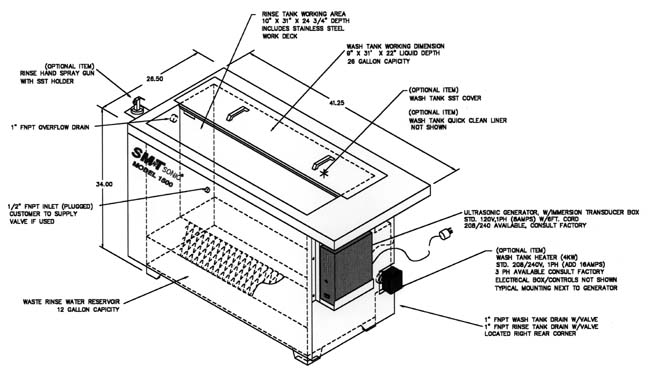 Specifications:
Model 1500
Overall Dimensions
26.5" x 41.25" x 34.0"H
Wash Tank Dimensions
9" x 31" x 25"H
Wash Tank Capacity
26 gallons (98 liters)
Maximum fame size
29" x 29" with one cycle*
29" x 50" with two cycles
Utilities required
Ambient wash tank
120 V, 1 Ph, 6 Amps
Heated wash tank
220-240 Volt, 1 Phase, 20 Amps
Water (with optional Hand Sprayer)
40 PSI (Soft or DI Water)
Average Cycle Time
Wash & Rinse Wet Solder Paste
1 - 2 minutes
Wash & Rinse Dry Solder Paste
2 - 3 minutes
Wet SMD adhesives
2 - 4 minutes
Flux residue buildup (rosin)
2 - 5 minutes
440-R SMT Detergent
Recommended Concentrations
RA solder paste
10 - 12%
RMA solder paste
10%
No Clean
6 - 12%
Synthetic flux (AP-4000, UP-78)
6 - 12% at 90°F (32°C)
Water washable solder paste
0 - 2%
SMD Adhesives
10% at 90°-110°F (32°-43°C)
Post solder flux buildup (rosin)
10% at 90°-110°F (32°-43°C)
Post solder flux buildup (OA)
1 - 2% (may require heat)
Hybrid Inks
Consult factory
Specifications are subject to change without notice.
* Wash tank depth is 25". The non contaminated end (approx. 5") of a 29" stencil will not be immersed to serve as a "handle" to move stencil from wash to rinse tank.

SMART SONIC CORPORATION
6724 Eton Avenue · Canoga Park, CA 91303 · U.S.A.

CHINA & HK SOLE AGENT: ELECTRONICS TRADING & MFG CO., LTD.
TEL: (852) 22320623/23140038 · FAX: (852) 23140048
E-mail: smt@electronics-trading.com · Web Site: http://www.electronics-trading.com
---



RETURN to SMarT Sonic Home Page



c 2020 SMarT Sonic Corp.